Certificate of Eligibility
(Zairyushikaku Nintei shomeisho in Japanese)
Foreign nationals will need to obtain a Japanese visa unless he/she is exempted from it. (Please refer to the Ministry of Foreign Affairs of Japan's home page.) To apply for a visa, the applicant must apply in person to a Japanese Embassy or Consulate in his/her country.
It is advisable to apply beforehand for a Certificate of Eligibility when applying for a visa.
The Certificate of Eligibility is issued by a regional Immigration Bureau in Japan, and it has the advantage of reducing the time required to obtain a visa and complete immigration procedures.
Kyoto University can act as a proxy for the application procedure to obtain the certificate. It usually takes approximately one month for the certificate to be issued after application. Please also note that the certificate will expire three months after the date of issue.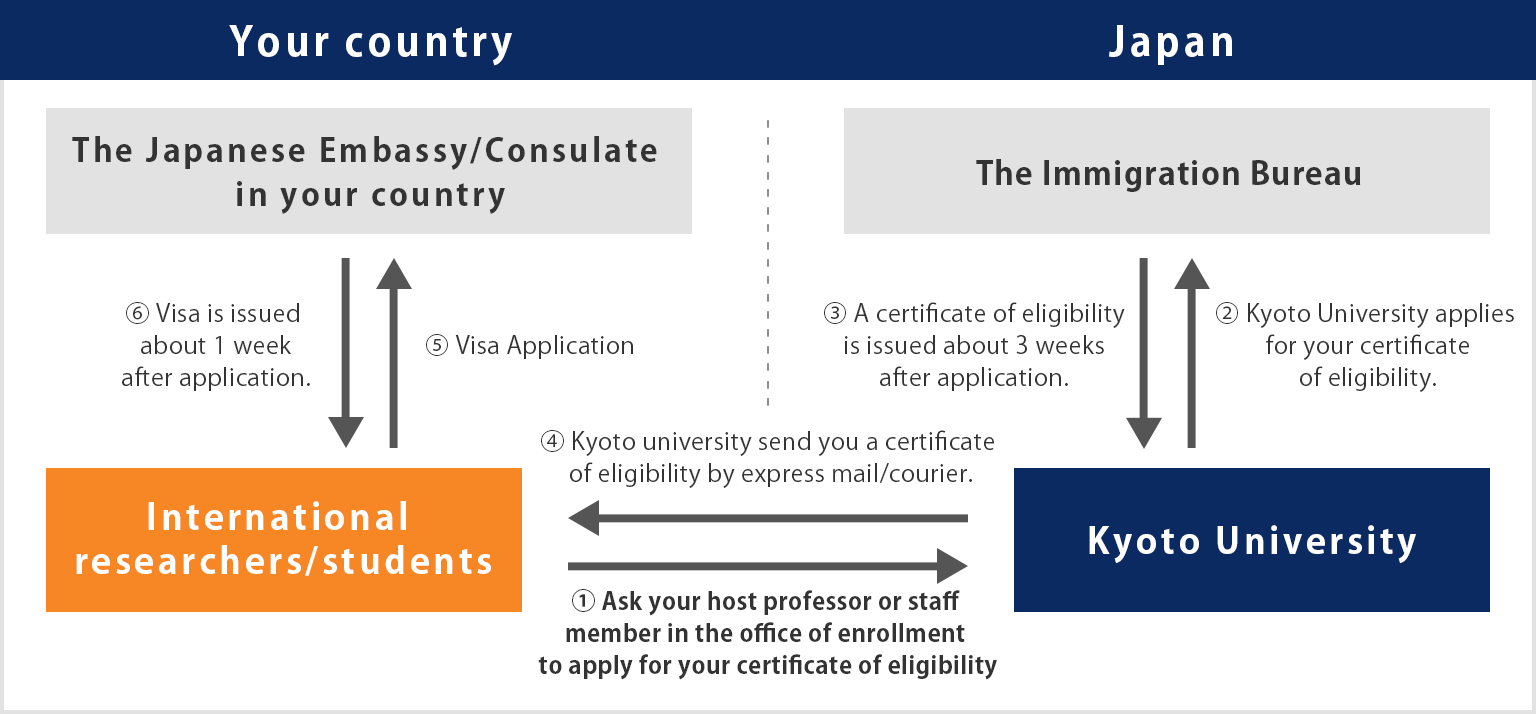 The Immigration Categories available
for academic who wish to come to Kyoto University
Status of Residence
Authorized Activities in Japan
Period of Stay
Certificate of eligibility is required when applying for a visa.
(〇=Yes, ×=No)
Professor
Research, research guidance and educational activities at Japanese universities
5 years, 3 years, 1 year or 3 months
○
Cultural Activities
Non-salaried academic activities
3 years, 1 year, 6 months or 3 months
○
Student
Study at university, college, high school, or advanced vocational school
4 years and 3 months, 4 years, 3 years and 3 months, 3 years,
2 years and 3 months, 2 years, 1 year and 3 months, 1 year,
6 months, 3 months
○
Dependent
The spouse and children of those authorized to reside in Japan under the status of professor, cultural activities or student.
Same as foreign nationals with the status of residence of "Professor", "Cultural Activities" or "Study"
○
Temporary Visitor
A stay of up to 90 days for tourism, business, visiting friends or relatives, etc. that does not include remunerative activities
15 days, 30 days, or 90 days

*

×
These categories are from the Ministry of Justice's home page.
* If you are a national of a country which has visa exemption arrangements, a short-term stay visa is not required. If not, please acquire a short-term stay visa.
Please contact us if you're not sure which residence status you need to obtain.
Also, the chart (only in Japanese) is available here from the following link.
KUISO website:
https://kuiso.oc.kyoto-u.ac.jp/before_arriving/aboutvisa/
Short-term stay visa
Often referred to as "tourist visas," short-term stay visa's are issued for purposes such as sightseeing, family visits, business meetings, etc. It is not permitted to be employed in Japan on a short-term stay visa.
A CoE is not required to apply for a short-term stay visa. Kyoto University International Service Office does not assist short-term stay visa applications.
Countries entitled for Diplomatic and Official Visa Exemption :
https://www.mofa.go.jp/ca/fna/page22e_000692.html