Kyoto University Health Service
Health Service
Kyoto University Nursery Room for Sick Children "KOMOMO"
Kyoto University Nursery Room for Sick Children, "KOMOMO" is a day-care facility that Provides care for sick or convalescent babies/children. All the students, researchers, and Faculty/staff members at Kyoto University are eligible, Fee and advanced registration are required.
Mental Health Support Services
On-Campus Services
1. Counseling Office at the Kyoto University General Student Support Center
Please note: counselling for international students is available in Japanese only.
2. On-Campus Advice Services for International Students
Student Lounge KI-ZU-NA (peer support)
International Student Advising Room at the Education Promotion and Student Support Department.
3. Kyoto University Health Services: Mental Health Support
Counseling by Email (available in Japanese only)
Available to Kyoto University students, faculty, and staff (including international students and researchers)
Off-Campus Services
1.Ministry of Health, Labour and Welfare
Free telephone consultation service for foreign people
2.Kyoto City International Foundation Counseling Days for Non-Japanese Residents (free of charge, advance reservation required.)
Interpretation service is available in English, Chinese, Korean, Spanish, Portuguese, and Thai is available.
Hospital and Clinic
When ill, go to a medical care provider with your Health Insurance Card.
Office hours for most medical care providers in Japan are limited to weekdays and Saturdays morning. You may search for medical facilities at the following website.
Kyoto Health Medical YOROZU net
Kyoto Medical Interpreter Dispatch Service
A free medical interpreter dispatch service for non-Japanese speakers who Live in Kyoto is available at the following four hospitals. Please contact one of the Interpreter Request Counters at participating hospitals in person no later than five days prior to the desired appointment. Check the list below for specific day/hour availabilities. In general, the medical interpreter cannot conduct interpreting over the phone. Available
languages: English, Chinese, Korean
Kyoto City Hospital
Day/Hours
Tuesday, Wednesday, Friday
9:00-12:00
TEL
075-311-5311
Remarks
Chinese interpreter is available only on Tuesday and Friday.
Advanced reservation for Chinese interpreter is not necessary.
Koseikai Takeda Hospitals
Day/Hours
Tuesday, Friday, Saturday
9:00-12:00
TEL
075-361-1351
Ijinkai Takeda General Hospital
Day/Hours
Tuesday, Friday, Saturday
9:00-12:00
TEL
075-572-6331
Remarks
Advanced reservation for Chinese interpreter is not necessary.
Kyoto-Katura Hospital
Day/Hours
Tuesday, Wednesday, Friday
9:00-12:00
TEL
075-391-5811
Kyoto City Simultaneous Interpretation Service
| | |
| --- | --- |
| Languages | English, Chinese, Korean ,Spanish and Portuguese |
| Service area | Kyoto City only |
Kyoto City provides simultaneous interpretation services in five languages for its Emergency telephone service for fires, medical emergencies, disasters, etc.
The service is available 24 hours a day 365 days a year. If you need to call an ambulance or the fire department, dial 119 and hold the line until an interpreter answers.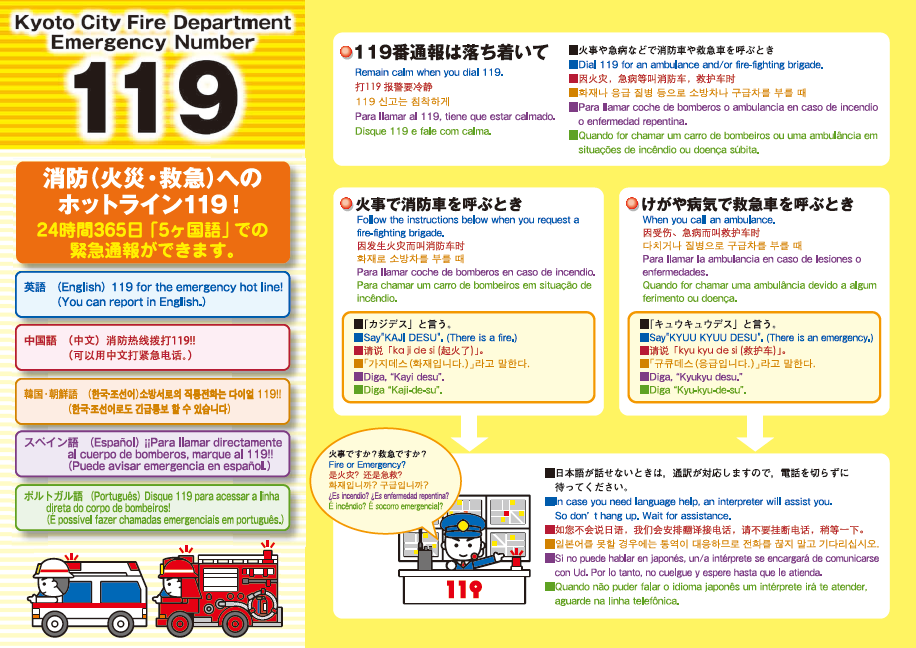 Information on Japan Medical Institutions
1. The List of Medical Institutions Accepting Foreign Tourists Visiting Japan
Medical institutions in Japan can be searched by area, language and medical department.
2. Medical Institutions'Usage Guide When Suffering Accidental Injuries/Diseases
Basic information on Japan's medical institutions.
How to consult medical institutions and attentive matters.
Point to communicate conversation sheets for explaining symptoms/disease conditions, etc.
Source: Japan Tourism Agency, MLIT